What are the differences between a guided, self-guided or virtual tour?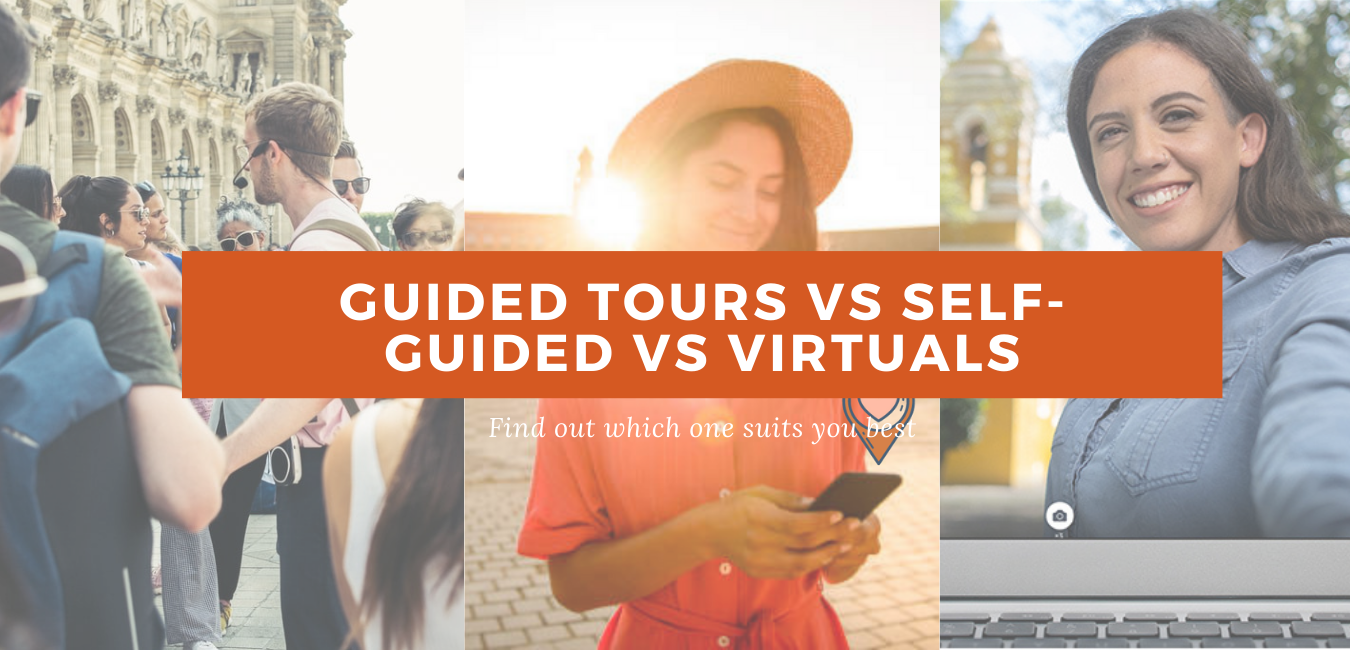 Find out which one suits you best
We love to travel and explore, that's an indisputable fact. In recent years, and in the wake of the covid-19 pandemic, have raised many ways to travel and get away from the everyday to continue to enjoy.
There is a wide range to choose from, depending on tastes, the traveller's personality and the type of trip, which can be confusing. For this reason, we have prepared this publication, where we are going to explain the main differences between them, so that you can choose the one that best suits you.
What is considered a guided tour?
Let's start with the most traditional and popular. The guided tour consists of a guide leading a group of people on a tour. There is a wide variety depending on budget, theme and age. You will be accompanied from the starting point to the end by an expert guide. During the tour, he or she will provide you with the necessary information about the place you are visiting, and explain the history, legends or anecdotes.
Although they were traditionally aimed at older travellers, new tours have emerged designed for a younger profile of traveller or even free tours where there is no fixed fee, but everyone gives the guide the tip they consider at the end of the visit.
And, a self-guided tour?
If you are looking for more flexibility during the tour, to go at your own pace, when and with whomever you want, a self-guided tour will be your best choice.
All you need is a mobile device with a battery and the desire to have fun. In addition to exploring the city at your own pace, you will be offered challenges and mini-games during the tour, exploring the city like never before.
The platform itself will guide you through the geolocation to where you have to go to continue discovering the city.
The content is provided by expert guides, who, as in guided tours, will provide you with interesting information about the place. In addition, the price is usually cheaper.
What are the main characteristics of these two typologies?
What are virtual or home-based routes?
These visits are carried out through live videos, Instagram directs, YouTube directs or platforms such as PlayVisit where geolocation is deactivated and you can make the visit you would do outdoors, from home.
They are organised by expert guides, instructors or even personal shoppers, who offer individual or group sessions.
Many consider it the Netflix of sightseeing tours, and there are even platforms that give you access to different virtual tours for a monthly subscription.
It all depends on the type of trip you want to make, if you are a more comfortable and organised traveller we recommend a classic self-guided tour, and if you are a more innovative traveller who likes to go at your own pace, our suggestion would be self-guided tours. And while mobility restrictions are still in force, you can do the tours from home or virtually so you don't miss anything. Discover more about virtual tours here: Virtual Experiences
👉Now that you know the differences between the different types of tours, discover the self-guided and home tours in the PlayVisit Marketplace.