ReactivaTur, the new website that brings together all the aids for tourism reactivation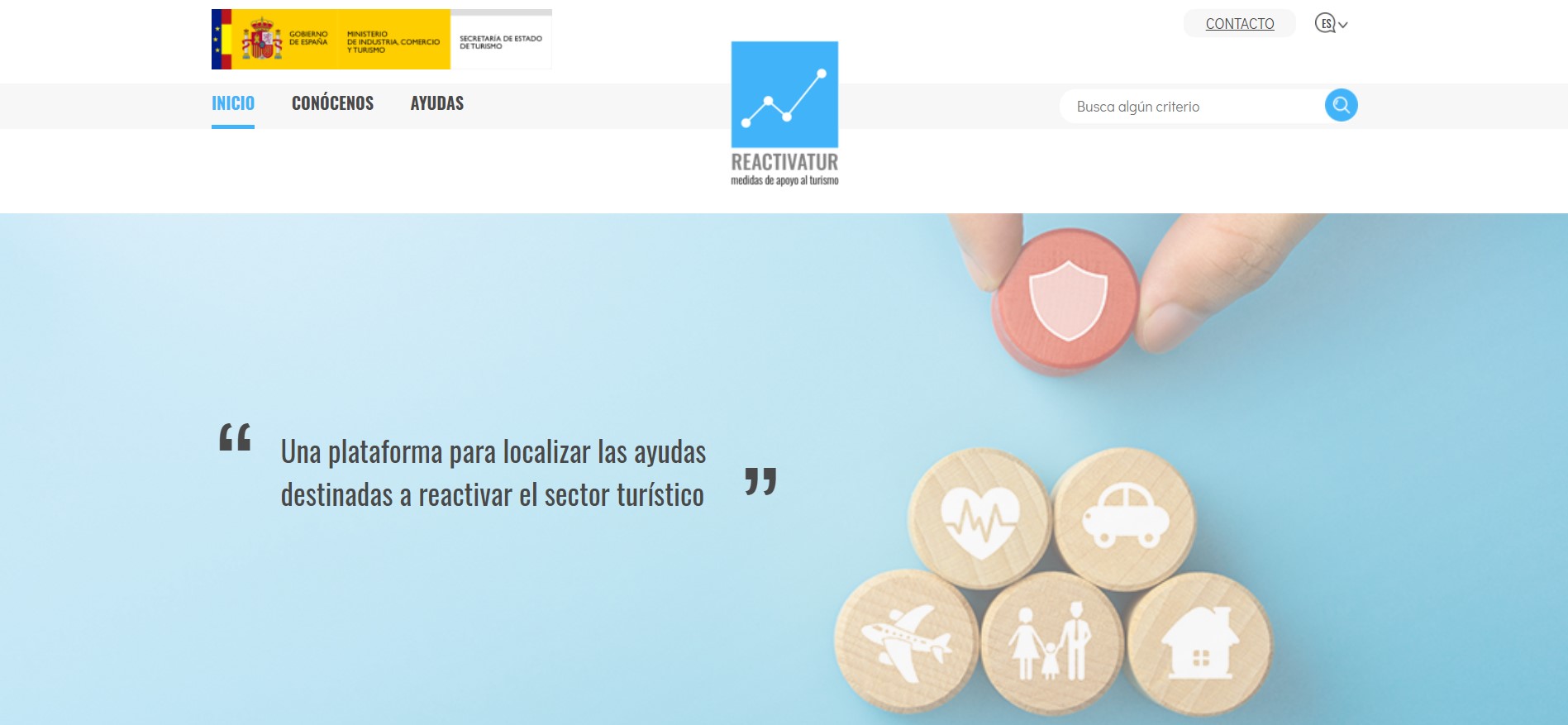 The Minister of Industry, Trade and Tourism, Reyes Maroto, presented on 31st March ReactivaTur, a project that provides information on all the aid available for tourism from the different administrations, from European to local aid, with the aim of reactivating the tourism sector after the unprecedented challenge of the COVID-19 pandemic.
What will you find in ReactivaTur?
Through a search engine and an interactive map, tourism companies can find aid linked to economic, fiscal, employment and training aspects, as well as actions aimed at the digital transformation of the sector that are available in each autonomous community.
These grants cover all types of sub-sectors of tourism companies and associations, from spas, events companies to travel agencies. You will find all the information you need to apply for the aid that best suits your company: application deadline, amount of the call, type of aid, a brief summary and the link to apply for it. To avoid a frustrating user experience, reactivatur will only show the measures that are in force and for which the registration or application period is still open.
It is worth noting that the Basque Country, Catalonia, Valencia and Andalusia have more than 18 measures in force, being leaders in their aid proposal.
Initiatives and aid highlights
We highlight the following aid and initiatives of the above-mentioned communities to revive tourism:
1. Andalusia
The Tourist Voucher is an extraordinary measure through a non-competitive line of subsidies that encourages tourist travel in Andalusia.
👉More info: https://www.reactivatur.es/es/subvenciones-en-materia-de-turismo-bono-turistico-de-andalucia-bonotur/
Grants of up to 3,000 euros for the digitalisation of hospitality and tourism businesses in Dos Torres (Cordoba).
👉More info https://www.reactivatur.es/es/reactiva2t-plan-de-digitalizacion/
2. Catalonia
Loan facility for projects to renovate tourist establishments
👉More info: https://www.reactivatur.es/es/linea-de-prestamos-en-condiciones-preferentes-para-la-financiacion-de-proyectos-de-inversion-en-la-renovacion-de-los-establecimientos-de-alojamiento-turistico/
Barcelona Activa "Crea Feina" recruitment grants
The aid consists of subsidising 5,000 euros for each new full-time contract of at least six months made by a company with a work centre in the metropolitan area of Barcelona that hires unemployed people with special difficulties in accessing the labour market who are registered in Barcelona.
👉More info: https://www.reactivatur.es/es/ayudas-a-la-contratacion-crea-feina-barcelona/
3. Vasque Country
Various aids to the hotel and catering industry in different localities:
👉Ordizia: https://www.reactivatur.es/es/convocatoria-de-subvenciones-del-programa-para-la-reactivacion-economica-local-en-los-sectores-del-comercio-y-hosteleria-para-hacer-frente-al-covid-19-en-ordizia/
👉Errenteria: https://www.reactivatur.es/es/ayudas-a-inversiones-en-los-sectores-del-comercio-y-hosteleria-de-errenteria-para-minimizar-el-impacto-del-covid-19/
Subsidy aimed at the hotel and catering industry in Arrasate to finance investment in terraces for Covid-19
The purpose of this line of subsidies is to help with the investments that are necessary for the provision of the service in the terraces set up on the public highway by the hotel and catering industry and other activities due to the Covid-19 pandemic.
👉More info: https://www.reactivatur.es/es/subvencion-dirigida-a-la-hosteleria-de-arrasate-para-la-financiacion-de-inversiones-en-terrazas-con-motivo-del-covid-19/
4. Valencian Community
Travel voucher for tourist establishments and travel agencies.
The amount of aid is up to 70% of the tourist services up to a maximum of €600 per aid for natural persons.
👉More info: https://www.reactivatur.es/es/ayudas-a-la-demanda-turistica-enmarcadas-en-el-decreto-156-2020-de-16-de-octubre-del-consell-de-aprobacion-de-las-bases-reguladoras-y-de-concesion-directa-de-ayudas-del-programa-bono-viaje-co/
Subsidised line of financing for the renovation of the company's facilities and the replacement of its working capital. The loan ranges from €25,000 to €2 million.
👉More info: https://www.reactivatur.es/es/linea-financiacion-bonificada-linea-ivf-liquidez-covid19/
For more information and to find the support that fits your sub-sector visit: www.reactivatur.es